2012, 09/16 Great Opening Week!

Summer was great and I thoroughly enjoyed the long summer, but boy, was I excited for the start of the new year at NoVES and especially Sunday School. My seven year old? Ecstatic!

So... it was our first Sunday, September 16th. All the members happily greeted each other and the children ran around and giggled with seeing their friends again. I gave out a lot of high fives on Sunday! I wish I had wonderful photos to share from the first week, but with it being the first week, I don't have permission slips all signed yet. So, enjoy a couple photos taken at the end of year party last spring! And just in that short summer break, I can see how much the kids have grown too!




After a great children's story, How I Spent My Summer Vacation, we all went back to the big classroom. We all introduced ourselves and shared any exciting things we did this summer. And many of our children had very exciting summer vacations! One went to Iceland, London and ran a triathlon. Another went to Puerto Rico. One went to Camp Quest Chesapeake, another went to Croatia, several went to the beach and a teen said she slept a lot. As a mother with a teen, I totally understood that being an important part of summer vacation too!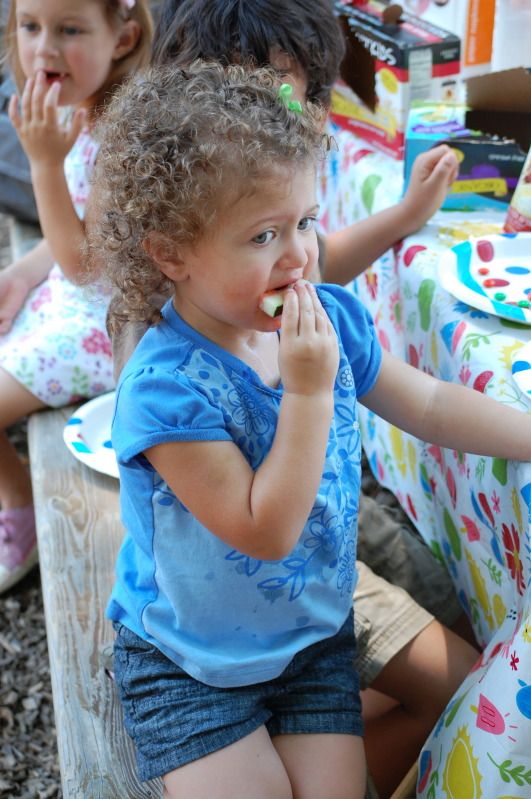 We then split up into our classes. This year we have 5 classes, as detailed on the What we Teach page. We left the room, youngest class to oldest. And then we began! At 12:15 pm when classes finished up, I saw a lot of creative things walking out of those classrooms and plenty of happy smiles.

The Preschool class, Ethical Friends and Fun,

learned each other's names, talked about being friends and read the book

My Friend and I

by Lisa Jahn-Clough. Then we sang Make New Friends. The children then painted song sheets to take home with gold and silver washable paint, and colored ethical symbols . We talked about why we meet on Sundays (to make friends and to talk about important things) and identified the person in the middle of the ethical symbol.



The K-1st grade class, Heartwood Curriculum, learned about courage. They too spent some time getting to know each other and then read the story Thunder Cake. The story is about how a grandmother teaches her granddaughter how to overcome her fear of thunderstorms. This led to a discussion and play of how the children might have been afraid before and found ways to be courageous. They also learned about Neil Armstrong and his acts of bravery with space exploration. The children ended with crafts. This Sunday they will continue with talking about courage with a new story, activity and craft.

The 2nd-3rd grade class, Celebrations Curriculum, learned about festivals and holidays and why we celebrate them. Everyone then

introduced themselves by making personalized nametags that told something about themselves. They then created a list of festivals that we celebrate, and all the things that make festivals special (special food, clothes, songs etc). They ended with making a drawing of their favorite festival and talked about what made it special. This Sunday

they will be talking about Rosh Hashanah.



The 4th-6th grade class, Comparative Religions Curriculum,

First they introduced themselves and spoke about their own backgrounds and their families. The teachers spoke about what is planned for the class comparative religions, and everyone talked about their own experiences with religion. They then turned to our own religion, Ethical Culture, mentioning Felix Adler and the early years of Ethical Culture. They concluded with discussing some of the 12 core principles of Ethical Culture. This Sunday they will finish the 12 core principles of Ethical Culture and will begin on their first unit, Judaism.



The 7th-9th grade class, Our Whole Lives (OWL) Curriculum, also started with an introduction to each other and the curriculum. They talked about how the OWL curriculum differs from the public school sexual education curriculum and they hit on what topics will be covered over the course of the year. They finished with creating ground rules for the class. Next week the class will be discussing what they want to do with YES for this year - the conference, fund-raisers, ethical action projects, fun activities, and so on. This class will be taught the OWL curriculum approximately every other week. Off weeks they will be working on YES activities and a mini curriculum on exploring the world around us, including doing activities and like activities from this book, 50 Dangerous Things You Should Let Your Child Do.