2013, 10/25: It's getting chilly and it's definitely fall!
The past few weeks we have been plagued by a lot of people being sick, so get well everyone and I hope to see you soon!

For those who have been well, we have been having fun and learning a lot!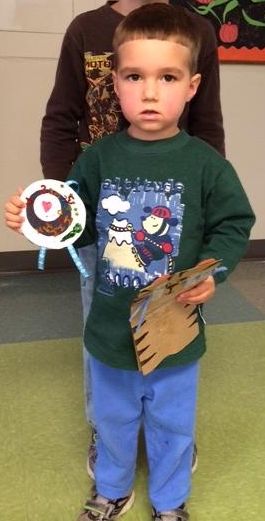 The Curious Critters class (Pre-K) just did their last lesson on Courage - and to show how brave these 3 and 4 year olds are, the last two weeks there hasn't been a need for these little ones to have their parents back in the classroom! They read Mr Tiger Goes Wild which talked about how we all are different and then they sang and and started making crafts - finishing their courage badge and making a tiger puppet. In the end they danced with their tigers to "Gotta Be Me" by Secret Agent 23 Skiddoo. So cute! You all are growing up!

The Truffula Bumps class (K-1st) Learned all about Recycling! The started with a movement activity involving the stuffed Lorax and then read the story, We are Extremely Very Good Recyclers by Laura Child and then talked all about the things we can recycle and reuse (and that is a lot of stuff)! And I do believe we do have a room full of extremely, very good recyclers! Then, to tie it all in, they did a pumkin craft with all recycled/reused materials (toilet paper roll, cut up cereal boxes, recycled construction paper, left over pipe cleaners and paper plates). The kids LOVED these crafts. I have to admit, I do too! Who know cereal boxes could be so decorative?


The Rainbow Warriors of the Courageous Heart class (2nd-4th) talked about emotions and why it's important to understand our own and other's emotions. They played charades. Each kid tried to represent an emotion to the others. The teacher used this quiz from this site: http://greatergood.berkeley.edu/ei_quiz/#21 to help everyone think about what emotions look like.

The House of Buoyancy class (5th-7th) had an interesting class today discussing good things that they experienced over the past couple of weeks. They then spoke about some of the negative emotions they experienced such as being sad, embarrassed, afraid, angry etc. They then did a skit about a stressful situation to see how they would handle it under a pessimistic and and optimistic point of view.

This upcoming week we are talking about Trick or Treat for UNICEF and Kakenya's School of Excellence, so come back for some cute pictures next week as we dress up for Halloween.

Remember to wear or bring your costumes and to bring spare change to fill those UNICEF boxes!