2013, 09/22: Welcome Fall!

We began this week with seeing some more of our friends that we missed last week. My how some of our children have really grown!

After quickly talking about the story for the day, and announcing a couple of birthdays, we divided up into our classes. Our first true week of Sunday School classes. Here is a quick run down of what each class did that day: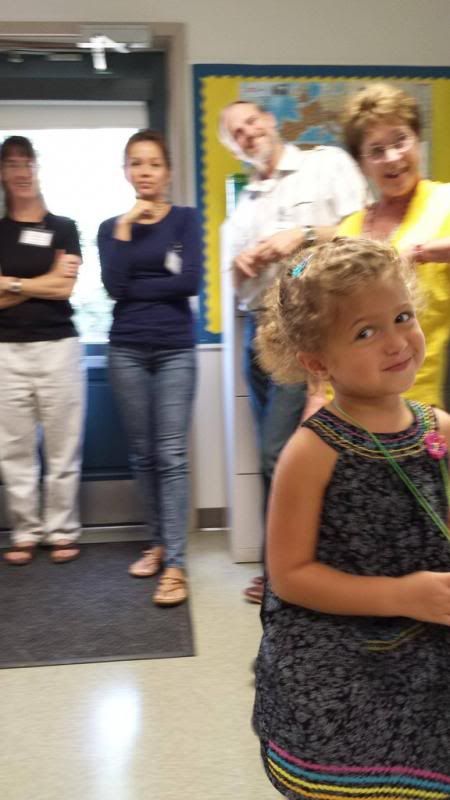 Cute little birthday girl turns 4.

Curious Critters (preschool): Today was the intro class, revolving around "What a Wonderful World" by Louis Armstrong. There was also a great corresponding book of the same title that we looked at while the song was playing. We talked a little bit about what makes our world wonderful afterwards, and what we did to show kindness and caring for others. The teachers showed signs (American Sign Language) for the words in the title of the song. Then they started the crafts, which were coloring cut-outs and/or making their own drawings to paste onto popsicle sticks (like sun, stars, fish, leaves, animals). They could also color a printout of a nature scene. When they were finished doing what they wanted with the craft (some were done very quickly, some later), they gravitated toward the train table, playing with cars, or the pretend kitchen (all very wonderful things in our world!). At the end, we came back together to listen to 'What a Wonderful World" again and signed the words for the title.

Truffula Bumps (K-1st): We had a big group on Sunday and everyone was eager to get started. We started with playing a movement game to get us limbered up and then we read a story, Room on a Broom about how friendship and love is give and take which is part of the core of the Heart Talk curriculum. We then made a craft of hearts where we drew a picture on one side showing how we do something for someone else to make them feel good and on the other side, what someone else does for us to make us feel good. We then shared stories of those pictures by using our sharing stick. We ended the day by singing a song about autumn leaves as it was the first day of autumn.

Rainbow Warriors of the Courageous Heart (2nd-4th): Biggest class of them all on Sunday and they had a bit of a hard time getting settled down and started with the Heart Talk curriculum. The teacher had to work on the fly, but he got the message in about the start of Heart Talk for the older children. (signs of a good teacher - a good plan B!) They were learning it without even knowing they were! They had lots of discussion and had fun being with their friends again. Their story and theme for the day came from The Tawny Scrawny Lion; a story about a lion trying to find his place in the world.

House of Buoyancy (5th-7th): The class started about talking about what their class name meant. Bouyancy meaning was discussed in terms of optimism with an explanation of optimism. Then, introductions with folks saying something about themselves. The class discussed ground rules for the year and then they spoke about thoughts and feelings in various situations. Then they started an activity with M&Ms. Each student came up with a recent feeling that the color of the M &M represented. Brown--sad, red--embarrassed, yellow-scared, etc.

Students in the Mentorship Program (9th and 10th grades): I absolutely have to shine the spotlight on our teens in the mentorship program. Officially, they are done with Sunday School classes. Their final step to graduating our program is to complete the two year mentorship program which involves meeting with their mentor approximately once a month. However, all 4 of our teens in the program have volunteered to work in our classes and I received glowing reports from all the teachers in how useful and how wonderful it was to have those extra pair of hands and problem solvers in the classroom. Since we have four classes, each one of our mentees is helping to assist in a class. Word is, they enjoyed helping out too. Totally awesome to see our teens want to stay with us and to take part.

Next week most of our teachers switch. The students will have the other teacher and/or assistants and if their curriculum switches by instructor, it will switch as well. So, for the K-1st class and the 2nd-4th class that means that they won't have the Heart Talk curriculum, but will have the Every Day is Earth Day curriculum instead. All of our classes have at least two teachers and they rotate. We do this so that our teachers also get a chance to participate in the rest of what NoVES offers, including the platform talks.

Other Sunday School happenings! We had our Summer Pal Party after platform. It was a great wrap up to a great summer of back and forth correspondence between our children and our adults. Adults gave a small gift and the children gave a homemade gift in return. Then they worked together in decorating their very own cupcakes (darn I didn't whip out my camera for that!)
One child made their adult pal a volcano to keep forever and ever. Another made their pal a halloween bat to decorate their home. While another made their very own designed paper airplane. I LOVE the creativity! Children received books, giftcards, crafts and puzzles - all chosen with a lot of thought. I already have word that some pals plan to keep writing to each other. How great is that? Intergenerational relationships - for real!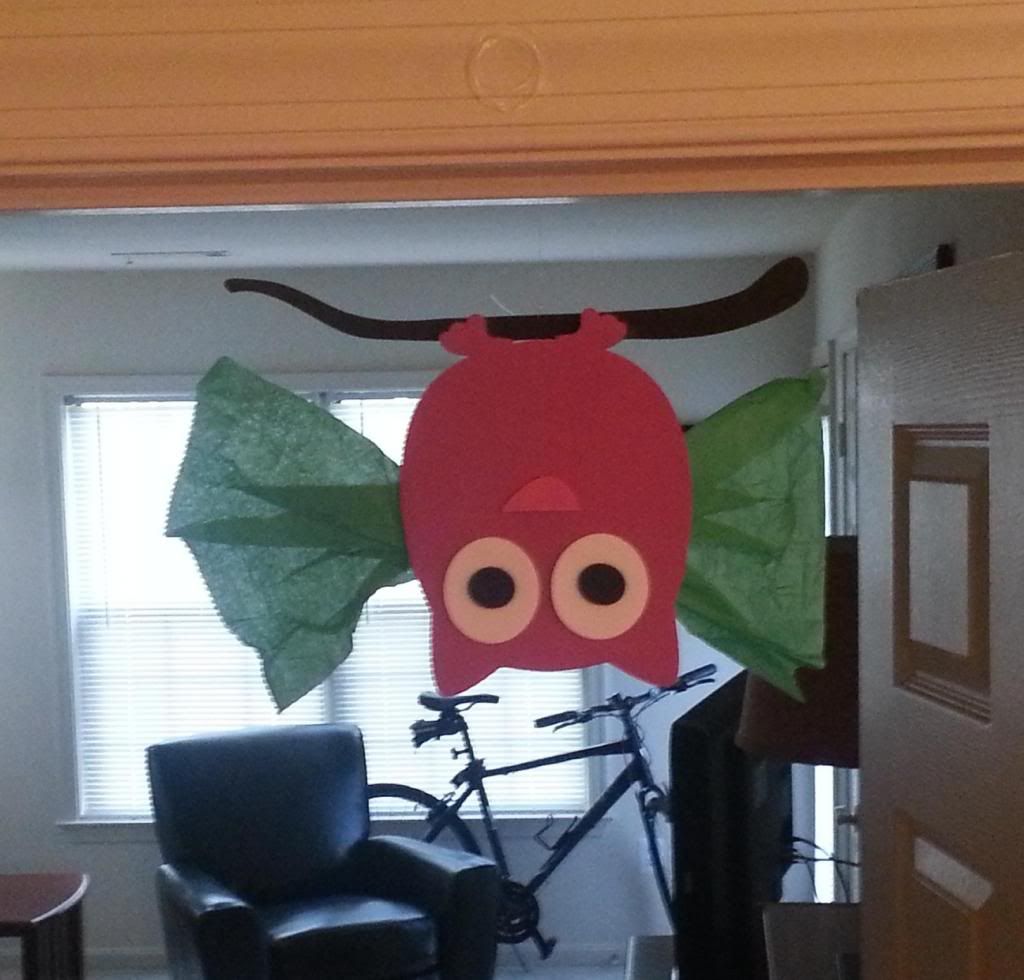 Photo sent to young summer pal to show the craft already up on display at the adult summer pal's house.