2013, 04/25 May Service Project! Every Day is Earth Day!
My second son was born on April 22. Like most parents, we looked up who else was born on that day and what special things happened on that day. It was then, not before, that I realized that Earth Day is always on April 22nd. I knew there was an Earth Day, but I never paid much attention to it. The kids have school, mail arrives and all offices are open. It ranked right up there in my head as important days to remember as

Arbor Day

(

April 26th

) or

Columbus Day

(

October 12th

). Now, due to it being my son's birthday and with realizing how important it is to take care of our planet (and NoVES has helped me become more environmentally aware), Earth Day has become a very important day to me.
In honor of Earth Day, the Sunday School always does a Stream Clean Up in April, but I think we can and should do more as Earth Day shouldn't just be about a day. Earth Day should be every day. There is only one earth and we need to take care of it! So, we are dedicating the May Sunday School Service Project to Earth Day (and Arbor Day) as well.
For the project, from now until

May 18th 5 pm

, I want the children (and anyone else) to document things they are doing to help the Earth with photos. I will then make a slideshow for the

May 19th Sunday

School Service Project day. I can even show it at the Membership meeting! So parents. PLEASE SEND IN PHOTOS!!!! Of course, after

May 18th

we should still take the message to heart - Every day is Earth day, so we need to take care of it every day.
Here is a very, very small list of things you can do that will help the environment, your acts of green: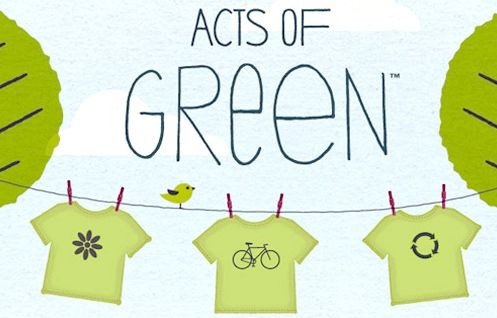 1. Pick up trash and recycling from your yard/park/neighborhood.
2. Dig up weeds instead of using pesicides.
3. Plant/Grow food organically.
4. Use an electric mower or push mower instead of a gas mower.
6. Plant trees, native plants (great idea for Arbor Day too!).
7. Use reusable materials for packing lunchs (Bento boxes versus plastic bags)
8. Use reusable bags for shopping.
9. Use refillable water containers instead of buying bottled water.
10. Don't run water when brushing teeth, etc.
11. Compost kitchen scraps.
12. Don't rake up grass clippings, but mulch them in.
13. Start to make your own leaf mulch.
14. Collect rain water to water plants.
15. Hang laundry out to dry on a clothesline instead of using a dryer.
16. Reuse items instead of tossing them or recycling them.
17. Have children doodle on scrap paper instead of fresh/new paper and do crafts with household items.
18. Buy/Use recycled paper products.
19. Use earth friendly cleaners around the house.
20. Adjust your thermostats so that in winter you keep it cooler and in summer keep it warmer.
21. Draw shades/blinds in summer to keep the house cooler.
22. Read items online/ebooks versus paper books.
23. Switch out your home's light bulbs to florescent bulbs.
24. Before you buy something, ask yourself, "do I really need it?" Reduce consumption.
25. Recycle your electronic equipment.
This is also a preview of a curriculum for next year. Next year two of our classes will be doing an "Every Day is Earth Day" curriculum in rotation with a Non-Violent Communication curriculum. (K-1 and 2-3).
Again, I want pictures folks! You have until May 18th 5 pm to get them to me so that I can turn them into a slideshow of the kids (and their families) doing good things for the environment! Now let's get to it! Email photos to melissa_sinclair2003@yahoo.com.