2013, 01/6 -Winter Festival and Beyond!

Every holiday season NoVES closes down for the week of Christmas and the weekend of New Year's, so it feels like a long time in between times we see each other. This was especially true for our Sunday School kids as they had practiced a couple songs for the Winter Festival and then they didn't have a chance to practice for 2 weeks! But they did a great job!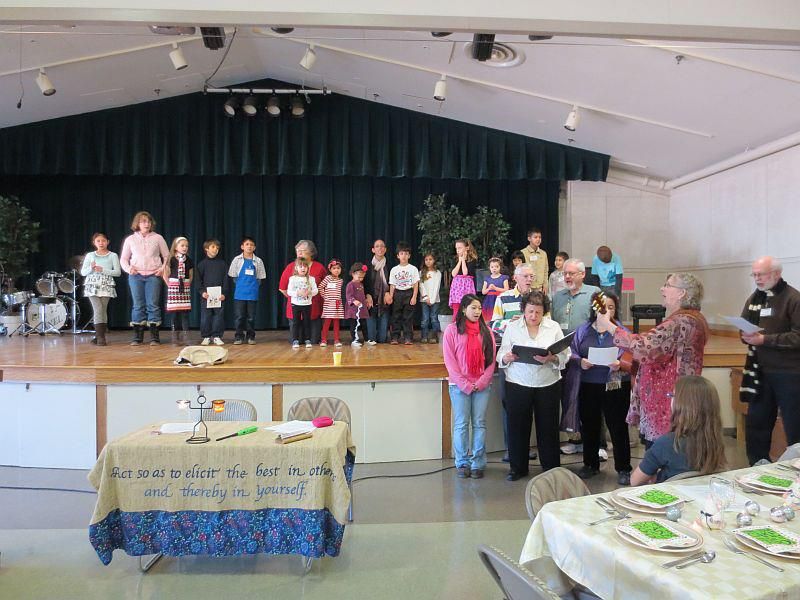 A few years back NoVES decided to move the Winter Festival until after Christmas. This initial move was actually by coincidence. We had a snow day that cancelled our usual day of Winter Festival, so we just moved it to the first week we start up again in January. January is even more winter, right? It turned out to be a great move as it moved it away from that super busy, hectic time of the year where so many people are traveling and are getting burned out on the holiday hoopla. And since our celebrations are secular, winter is winter in late December or January, so why not have it in January? Plus, it's a great way to start the year with a bang and nice way to greet people after our two weeks hiatus from meetings.

So, on January 6th we had our Winter Festival. Almost all our kids were there plus several visiting children. The kids had made enough snowflakes for all the kids, so no one felt excluded. Who knew our little group of 8 kids just 18 months ago would blossom into 27 kids on that day and that was with a few kids still absent? Such a wonderful sight to see! Happy kids!




We had a short program which included two stories for children, some poems, and some songs. The kids did great wtih their music too!

The next week it was back to classes and the kids were excited to be back at it and we were happy to greet some new students into the mix.

This past week we celebrated Martin Luther King Jr.'s birthday with a traditional story which is read every year at NoVES - The Sneeches. Back in Sunday School we talked about why we read this book, it's message and then we talked a bit about why Martin Luther King, Jr. was so important. We then went to our classes where a lot of discussion continued on freedoms, dreams and human rights. And it's so nice to see these students "get" this message. Don't we all want to be treated fairly and kindly?

We are hustling and bustling in Sunday School and continually growing and I'm so proud of all our students accepting the new students right into the mix. What a great group of young people to be working with, ages 2-15 in the program. I have a great job being the Director of Relgious Education at NoVES.